Preparing for the birth and the first few weeks with the new family member also includes purchasing initial equipment. In anticipation of the baby, many family members get in the mood to buy and are only too happy to be inspired by the huge selection in department stores.
Before buying the initial baby equipment, however, parents should consider what they really need so that the baby feels comfortable and secure in their new home. A good organization when buying the initial equipment helps to avoid double and wrong purchases and guarantees that everything that the baby needs is available in the household by the time of birth.
Buy initial equipment – This is the ideal time to make your first purchases
Most babies are not born exactly on the expected due date. However, by around the 30th week of pregnancy, expectant parents usually know enough about their new family member to start purchasing basic equipment.
Both the expected size and the gender of the baby are easily predictable at this point in time. At the same time, the mother is still mobile enough to do the shopping herself.
Parents should also note that the stroller of their choice or a specific baby bed may have a longer delivery time. Renovating the baby room and assembling the baby furniture also takes a lot of time. If you start preparing 10 weeks before the expected due date, you can look forward to the baby's birth in a relaxed manner.
Another advantage is that parents do not have to shop at the last minute, but have enough time to think about furnishing the baby room.
Financial help with the purchase of the initial equipment
Anyone who needs government grants or other help in financing the initial equipment now also has time to apply for the necessary funds. The first point of contact for recipients of benefits under SGB II is the job center.
On request, those entitled can receive funding for the purchase of an initial set of equipment. However, there is no flat rate for this, so it has to be listed exactly what you need for the new family member.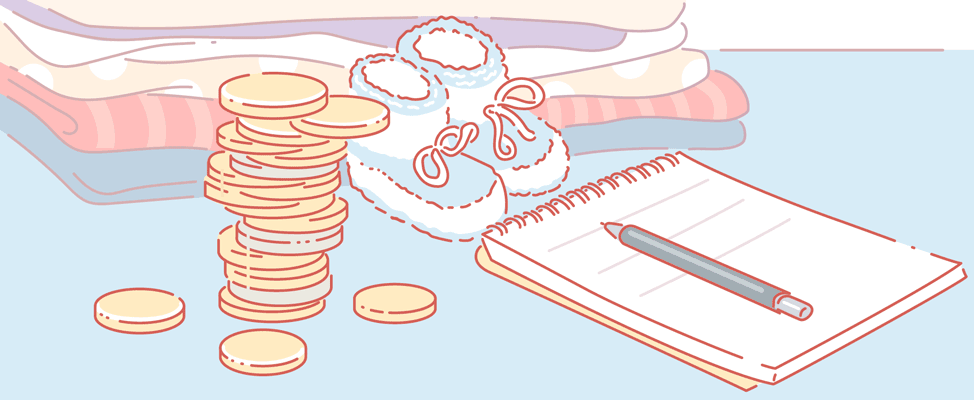 Anyone who is not entitled to receive job center services but is still in need of help can also receive financial support from foundations. As a rule, assistance must be requested between the 15th and the 25th week of pregnancy. Those affected can turn to this, for example
Caritas
AWO
Diakonie
Pro Familia
Federal Foundation Mother and Child
Summer or winter baby
Whether the baby is born in summer or winter plays an important role, especially when buying clothes. Babies grow quickly, so the first clothes of the season must be chosen accordingly.
The weather plays a major role, especially when buying outerwear and sleeping bags. Babies born in winter need warm clothing, coats and thickly padded footmuffs for the stroller in addition to the basic equipment.
Warm footwear ( woolen socks , baby boots, etc.) as well as winter hats and gloves should be part of the initial equipment. Radiant heaters have also proven their worth on cold nights, as they provide cozy warmth when changing diapers at night or when bathing in the evening.
Baby room
Regardless of whether the baby sleeps in the family bed or in its own bed, sooner or later the baby room will be set up. Many parents do this before the birth so that they don't have to worry about choosing and assembling furniture or renovating in the first stressful weeks.
Because the baby's sleeping habits cannot be foreseen, especially in the first few weeks of life, parents-to-be should deal with different sleep concepts. The family bed is repeatedly criticized.
Letting the newborn sleep in its own bed increases the risk of sudden infant death syndrome, according to numerous researchers.  If you want to be on the safe side, it is better to choose an extra bed or a cot for your baby. Whether this should be set up in the baby's room or in your own bedroom depends entirely on the baby's personal needs.
A fully furnished baby room offers not only a quiet place to sleep, but also a place to change and change clothes, space to play and cuddle and of course a quiet retreat for breastfeeding.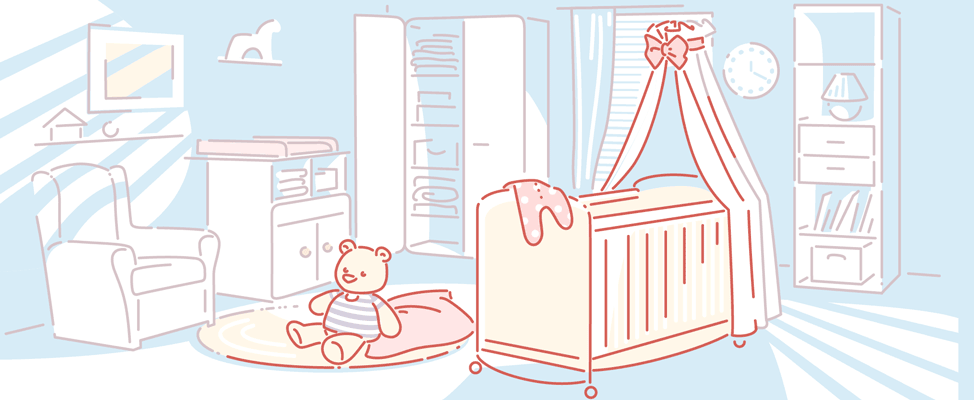 Because the baby's initial equipment also requires a lot of storage space, many parents find a separate room to be very practical. The equipment of the baby room can be done according to your own wishes and needs.
Baby bed: If you decide against the family bed, you need an extra bed or a baby bed. These are available in numerous equipment variants and thus meet different requirements. It is important that the baby cannot fall out of bed. Seal of approval against good indications of the safety of the bed.
Bassinet / cradle: In addition to the baby bed, bassinets or cradles are also very popular. They enable the baby to be in the same room as the parents. Because newborns sleep up to 16 hours a day, the same high demands should be made on the quality of the bassinet as on the baby bed.
Baby mattress: A baby mattress is required to match the baby bed. It should be tested for harmful substances and breathable. Most baby mattresses are 140 x 70 cm in size and fit into most standard baby beds.
 Matress protector: Protects the mattress from stains and dirt.
Sleeping bag: Babies should sleep without a pillow or blanket to protect them from sudden infant death. As an alternative, a baby sleeping bag has established itself, which should be adequately lined according to the season, room temperature and personal preferences.
Closet: Some parents keep their newborn's clothes in their own closet. However, having your own baby wardrobe has the advantage of a better overview. Parents always have an eye on how many items of clothing are still available. In addition, many babies do not react very positively to moving, so it can be a great advantage to have everything stowed away clearly and within reach. Chests of drawers are also very suitable for storing baby clothes, especially for summer babies. Many parents do not feel that a clothes rail is absolutely necessary, especially in the first few months of life.
Changing table: Anyone who does not want to change the baby on the bed, the floor or, for example, on the washing machine, will appreciate a solid changing table. Biggest advantage: the optimal height is easy on the back and joints. At the same time, the chest of drawers offers space for all the utensils you need for changing.
Changing mat: Whether for the changing table , the floor or the washing machine: A changing mat protects the surface from contamination. It should be easy to wash off and disinfect if necessary. Changing mats increase the hygiene when changing and at the same time offer a pleasant lying comfort due to the padding.
Nappy pail: A nappy pail is equipped with odor-proof properties. Equipped with special film tubes, it does not have to be constantly emptied and thus offers a high level of comfort when changing.
Playmat: Even if the baby cannot crawl in the first few months of life, many families like to use a playmat. It offers a lot of space to play, discover and cuddle. Unlike the bed or sofa, the floor is a very safe place for babies because they cannot fall off. Depending on the floor covering and the time of year, the playmat should be well padded and / or lined to protect against the cold.
Toys and cuddly toys: Also and precisely because cuddly toys and toys are among the most popular gifts at birth, parents-to-be should hold back when buying them. Babies' favorite activities in the first weeks of life include mobiles . Because babies oversleep a large part of the day and spend a lot of time breastfeeding and cuddling, hardly any toys are needed in the first phase of life.
Renovation and decoration: Many parents invest a lot of time and money in furnishing the baby room. This also includes appealing wall colors, cute wallpapers, carpets, curtains and decorative objects. There are no limits to your own imagination and personal preferences. When choosing materials, however, care should be taken to ensure that all furnishings are free from harmful substances and do not pose a safety risk to the baby.
Blinds: In the event that you live in a house or in a rented apartment without external blinds, you should consider buying blackout blinds or internal blinds, especially for a summer baby. Excessive incidence of light can interfere with falling asleep, especially at the beginning, and may prevent healthy sleep rhythm development.
Baby clothes
As mentioned earlier, baby's clothes should be adapted to the season. In addition, there must be enough change of clothes available. In addition to the number of items of clothing, many parents ask themselves the question of the correct size before giving birth.
Dress sizes for baby clothes are usually declared according to body size. This means that, for example, a body in size. 50 fits a newborn with a body length of 50 cm.
Most newborns therefore wear size 50 or 56 immediately after birth. If there are no major deviations from the norm during the last preventive medical check-ups before the birth, these sizes are the right choice.
The next larger baby size is 62. Most babies grow very quickly, especially in the first few weeks of life, so you can safely include these three sizes in the initial equipment. However, you shouldn't buy too many items of clothing because the baby will grow out of here within a few weeks.
General recommendations for the initial equipment provide the following guide values ​​for the number of items of clothing:
5 – 6 bodies
5 – 6 rompers
6 pairs of socks (thick and / or thin)
3 – 4 pajamas
6 tops with short or long sleeves (depending on the season)
6 cardiggans or sweaters
2 – 3 tights
2 thin hats, 1 thick hat (for winter)
1 – 2 jackets and / or coats (thickly lined for winter)
Snow or winter suit
Scarf or scarf, gloves (for winter)
1 – 2 sun hats
1 – 2 summer or winter sleeping bags
bathrobe
Baby clothing should always be produced free of harmful substances (see test seal) and ideally be made of breathable materials such as cotton, wool or silk. Baby clothes should be washed before first use.
A mild detergent is recommended for washing so that baby's skin is not unnecessarily irritated. Baby clothes do not necessarily have to be washed separately.
Baby care and health
Baby skin is significantly thinner and more sensitive than adult skin and therefore needs special care. There are numerous care products available in stores, which do not always make the selection easy.
When buying cleaning and care products, however, it is advisable to use PH-neutral, mild cosmetics that are as free of fragrances, colors and preservatives as possible.
The manufacturers of certified natural cosmetics also have a large range of care products. The big advantage here: natural cosmetics are produced in a sustainable and environmentally friendly manner, are free from animal testing and are characterized by high tolerance due to the natural ingredients. 
Which care products you ultimately want to use depends on your own preferences and also on the baby's skin condition. Children with uncomplicated skin do not need a lot of maintenance and only mild cleansing.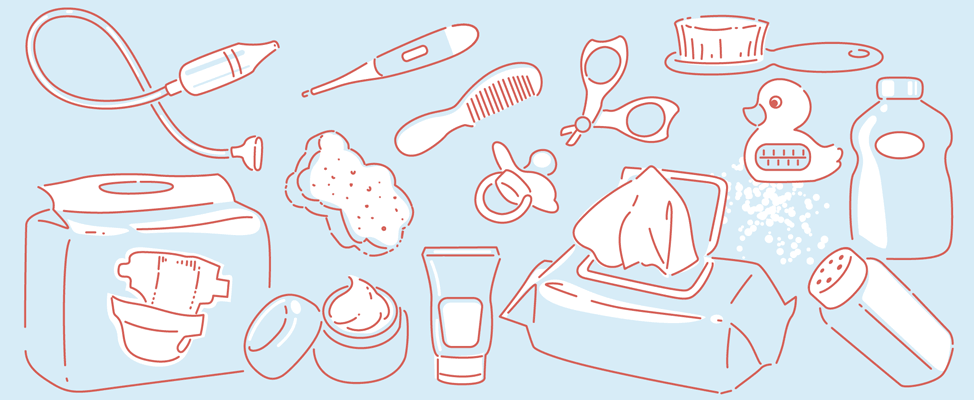 For babies with neurodermatitis or diaper rash, it is best to seek advice on skin care from a pediatrician. Special medical care may be required here.
For many parents, the following care products are part of the initial equipment
Baby bath additive
Baby shampoo
Wound protection cream
suncream
Baby powder
Baby oil
Baby wipes
Diapers (newborn size or size according to body weight)
You also need it for personal hygiene
Baby bath or wash bowl
Bath thermometer
Washcloths (8-10 pieces)
Towels (possibly with hood, 2 – 3 pieces)
Baby nail scissors
Clinical thermometer
Pacifier (size 0 – 6)
Nasal aspirator
Baby hairbrush
Initial equipment for breastfeeding
Breast milk contains all the important ingredients that the baby needs for healthy development. Breastfeeding your baby contributes to a healthy immune system and prevents allergies and obesity. 
Newborns are breastfed as needed. It can take some time for the infant to find its rhythm. Most babies level off with a breastfeeding frequency of about 10-12 times in 24 hours.
Because you spend a large part of the day breastfeeding, ideal conditions should be created for this. Peace and comfort are paramount here, so that no problems arise when breastfeeding.
What mother and baby need to breastfeed can vary greatly depending on personal preferences. Many dealers offer starter kits for initial equipment that contain a selection of breastfeeding accessories.
Regardless of whether you buy a complete package or individual products for the initial equipment, you usually need breastfeeding
2 – 3 nursing bras
2 – 3 nursing shirts or nursing tops
Nursing pads
Nursing pillow
Breast milk bottles
Breast pump
Bottle warmer
Nipple ointment
8-10 molton cloths
Nipple shields
a pack of pre-food or 1-pack in an emergency (e.g. if the mother suddenly becomes ill)
Initial equipment for bottle feeding
The decision not to breastfeed the newborn can be very stressful for many women. However, if you can't breastfeed, you don't need to feel guilty. Even though breast milk is considered the best form of nutrition for babies, infants receive all the important nutrients they need for healthy development even with infant formula.
There is no general answer to which baby food is the best. Anyone who stands in front of a shelf with baby food in front of a shelf with baby food for the first time can choose between starter food, pre, HA food, 1, 2 or 3 and of course between numerous brands.
The milk powders differ mainly in their composition and nutritional content. Newborns ideally receive pre-nutrition and 1 milk. The former can be fed from the first day of birth. It is most similar to breast milk.
Type 1 milk powder is also suitable for newborns. It is a little more satiating than pre-food and is also a little thicker. Both types can be used either for additional feeding or as a stand-alone solution.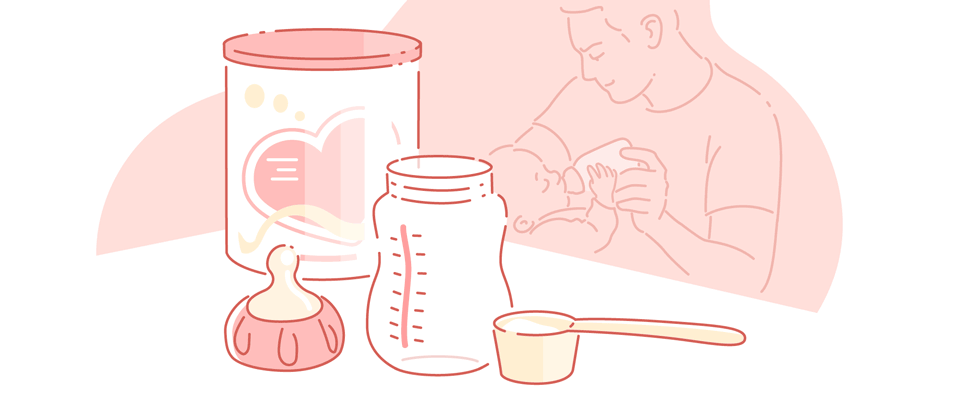 If the parents have the impression that the baby is not really full, you can use both types alternately or switch to single food altogether. For this reason, both types are ideally included in the initial equipment.
A number of accessories are required for the production of the bottle feeding. The basic equipment for bottle-fed children therefore includes:
2 -3 packs of milk powder (pre or 1)
6 milk bottles made of glass or BPA-free plastic (250 ml)
6 suction cups, size. 1 (made of latex or silicone)
Bottle warmer
Bottle brush
8-10 molton cloths
Possibly 1 – 2 tea bottles (125 ml)
Tea teats
Sterilizer for bottles and teats
Thermobox for on the go
Out and about with the baby
At the latest when the mother and baby are ready to be discharged from the hospital, the family needs a safe means of transport for the baby. A child seat or a baby seat is essential when traveling by car .
The law stipulates that the baby must drive backwards in the car until it is 15 months old.  The choice between the baby seat and the rear-facing child seat (reboarder) is not easy for many parents.
Both variants have their advantages and disadvantages, which we will discuss in more detail in another article.
Anyone traveling with the baby also needs a stroller in addition to a suitable seat for the car. Many mothers supplement this with a baby carrier and / or a sling.
Even wearing jacketss are becoming increasingly popular and are often used, especially in winter. Depending on where you are going, you may need additional equipment on the way to ensure that the baby is cared for outside of your own four walls.
The initial equipment includes for on the go
Child seat or baby seat for the car
stroller
Sun / umbrella for the stroller
Blanket for the stroller
Rain cover for the stroller
Baby carrier, sling or baby jacket (depending on your preference)
Security in everyday life
In the first few months of life, the baby cannot move freely around the house without help. There is still time to secure sockets, drawers or cabinet doors. Even before birth, however, you should get used to stowing medicines and cleaning supplies in a child-safe manner. Habits prevent this important safety aspect from being forgotten in everyday life with the baby.
However, household safety is also a high priority for newborns. It will take a few years from birth until the new family member can assess the dangers themselves.
In order to ensure the safety of the youngsters, the following measures and aids are recommended
Baby monitor: With a baby monitor, the baby can also be monitored from an adjoining room. Devices with video transmission are particularly popular because you can not only hear the baby, but also see them. Parents can also use a baby monitor with two-way communication to keep in touch with the baby and, for example, calm it down with their own voice.
Night light: Many babies do not feel well in complete darkness. A night light can take away fears and make it easier to fall asleep. Anyone who wants to check on their sleeping baby at night can also benefit from a night light. When buying, you should pay attention to energy-saving LEDs. Some models are equipped with a motion sensor, making it easier to get to the cot at night.
Sun protection: The skin of babies is much more sensitive to UV radiation and should be well protected from the start. UV-resistant clothing, headgear, parasols and sunscreen for babies help with this .
Medicine cabinet: Of course, all medicines that the baby has received from the pediatrician belong in the medicine cabinet. A clinical thermometer should also have a permanent place. In the ideally lockable medicine cabinet, everything you need for a small wound care should also be found. In consultation with the pediatrician, over-the-counter drugs for flatulence, pain and fever can also be a useful addition to the medicine cabinet.
Emergency numbers: Most parents have the phone numbers of the police and fire brigade in their heads. But who knows the numbers of the pediatrician, the poison control center or the medical on-call service by heart? In stressful emergency situations in particular, it is important not to waste valuable time looking for phone numbers. There are numerous templates on the Internet that can be printed out so that you always have all the important phone numbers to hand. This is especially important when a family member or babysitter is taking care of the child. Hung in a central location, access to the emergency numbers is guaranteed at all times.
Test and safety seals : All items of the initial equipment and all household items with which the baby comes into regular contact should have safety or test seals. These guarantee that the products are produced free of harmful substances and are safe for the baby. The most important seals include the GS seal, the golden M quality mark, the Blue Angel and, for textiles.